About us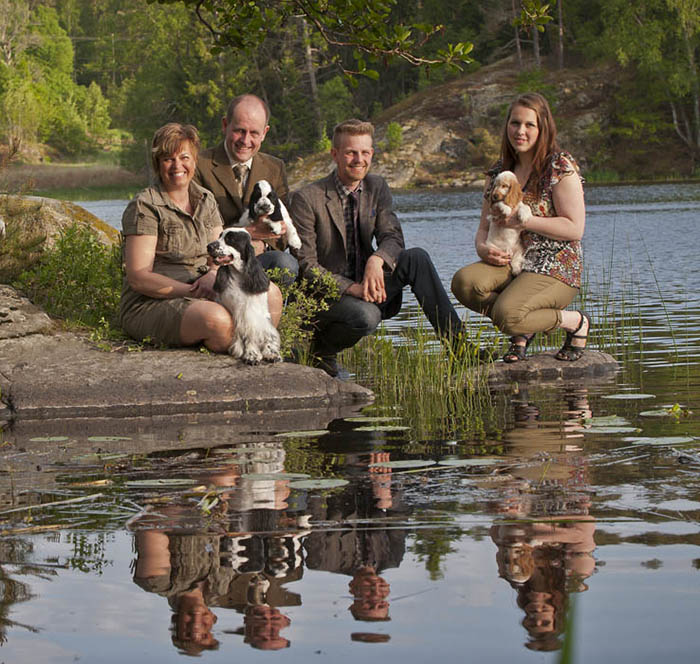 Our names are Börje and Theres Johansson.
We live on an island called Orust. Orust is located 80 km north of Gothenburg. Our yellow house is at the end of the road with the forest behind us as a neighbour. We have a big fenced garden where our dogs can run around and play. The view from our kitchen window is a lake where we have trained our dogs to water retrieve. At home we have 7 dogs at the moment. We only breed parti-coloured cockers. We got our first English cockier spaniel when we were newlyweds in 1983. Our interest in competing with our dog grew quickly so we decided to get one more dog. In 1985 we had the opportunity to buy a dog from the famous breeder Lilian Öhrström called Örlidens Strörtsköne Sten. Together with him we competed successfully at dog shows, field trials, obedience and in hunting tests.
In 1986 we bought the foundation bitch of our breeding. Her name was Örlidens Living Doll. We had great success with her in hunting tests but mainly in the show ring. In 1990 we had our first litter and since then we have had about two litters every year.

When we had our children, Niklas and Rebecca our priorities changed. We chose to mainly compete at dog shows. Our children grew up and a very dog-oriented environment and they have played a large part in our success. Without them we would not be able to travel or live our life as we do now. Niklas has been a reliable kennel help who instinctively knows when something is wrong and acts in the best way possible. Rebecca has always had a huge interest in everything that involves dogs and has become a top handler and groomer.
Today we are both judges and judge many different breeds at dog shows. Börje started his judging career in 2007 and Theres in 2010.
A cocker from our breeding should be an all round dog – a happy companion with a happy tail is very important to us. We want our dogs to be both healthy and good-looking.